The Met was packed, we couldn't get seats together, and so for my first opera experience sometime in the late 80's I ended up sitting between gowned sisters who unfolded massive librettos* on their laps and whose blue fox furs both had their heads turned toward me, their beady glass eyes letting me know that I had better behave.
To please my wife I had agreed to see The Marriage of Figaro; I thought I had a chance when some guy dressed in peasant garb led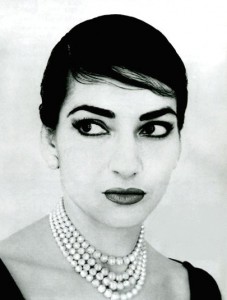 a donkey on stage. I remember dimly thinking maybe there will be more animals, and maybe this will be a kind of circus opera, ok!, but that was the highlight and within 20 minutes I was snoring like a hyena and sister #1 was rapping my left knee with a rolled up program.
Not until my wife made me listen to Maria Callas sing Casta Diva, an aria from Norma, did I backflip and fall hard. Callas's voice seemed to contain all the ache and yearning of love it might be possible to express, in this life at least.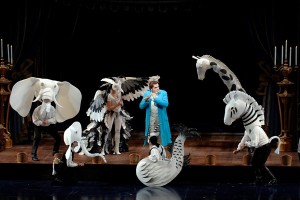 For me, her voice seemed to suddenly take shape as the physical embodiment of a soul, but then as I listened to other arias and duets she had performed, it acquired more mythic power — she seemed to be reaching out and creating souls, creating new sensitivities, uncovering new arenas of feeling, of depth of feeling.  I had never heard anything like it. I have been listening to and attending operas ever since.
Following the thread of that first experience explains how we came to be sitting in  the Academy of Music cramped in tiny seats 80 feet from the stage ready for Mozart's The Magic Flute, a comic fantasy about a Queen of the Night and the Masons and romance, well, only the romance matters here — and the overture rose up from the Pit and the curtain rose and lots of characters dressed in 18th century clothes scampered everywhere, laughing and playing, and when the singing began, three black leathered sirens in braids appeared and a black dragon with three heads and pink wings and the hero in tails the color of a blue sky. Then add a flute and bells that perform magically as protection against enormous white headed crocodiles and sorcerers and fire and water. When the Queen made her appearance, she wore eyelashes as big as wings and she sang a series of trills that seemed almost supernatural in their control and beauty, and when the three boys rescue Pamino,* the heroine, from despair that she will never see her lover again, the four combined voices mesh, soar, mainline into our emotions such desperate tenderness.
There is no point in writing more. What matters is the music and the voices. Therefore, let me leave you with a few selections from other operas and other singers. Give yourself a chance. Listen. We all need beauty in order to help stave off a hard world.
A Te, O Cara – Luciano Pavarotti – I Puritani
Sumi Jo & Ah-Kyung Lee – Delibes – Lakme – Flower Duet
*The text of the libretto, in translation, is now shown on a screen above the action on stage in most opera houses.
**From a movie production directed by Kenneth Branagh of Hamlet fame!