The crows greet me when I open the door. They perch in the tall trees around our house, croaking out calls to their family of seven or eight. Their dark feathers sometimes litter the grass.
On the road this early, I feel larcenous, as if I should hide my face from any passing cars, as if I have been up to no good. The light is bare and unlimned; I can see shapes but few details. Above me the three quarter moon remains high, opening and closing behind low-sailing clouds.
This is high summer. Four visible ridge lines to the north rise and fall in haze. Even this early, the heat is palpable.
The locusts are sounding off in the tree-line. Walking lightly and slowly I come over a rise and startle a huge buck with a rack that seems as big as a reindeer's. He snorts and leaps and two does zigzag behind him into impenetrable scruff.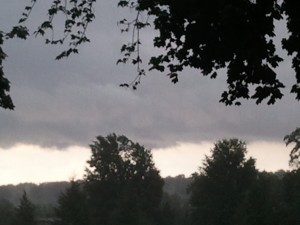 Hours later, coming to the close of day, deep purple clouds are building and advancing from the west to the east. The wind has banished the cloaking heat. To the south, layers of clouds sit upon each other and a bright layer backdrops tall trees that twist and froth.
The rain arrives; the air becomes vivid with its unbroken strands. Thunder encircles us. It sounds like heavy trucks driving over planks. Staccato lightning erupts in milli-second flashes along the horizon lines.
Sitting quietly on our little porch, Patti and I watch all this. Wolfie sits up between my legs, silent and attentive. This is wonderful.
I think that right now if I could choose one invulnerability, it would be to make myself impervious to lightning strikes. Then I would run toward storms and stand in big fields,  immersed in the dense wind, and when cuffed by a blow, I would become luminous with the light made by my own skin.