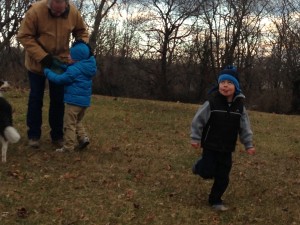 The gusting wind swung out of the northwest and swept over the little boys who rolled on the ground, laughing. Other children ran after the dog who carried a chewed-over blue Frisbee and looked delighted to be chased. We were standing on the hillside under gray clouds patched together with threaded light. Parents and cousins, uncles and aunts, smiling at the benign chaos and catching up.
Inside my sister's house the remains of the turkey and filling were being packed away. Cookies and chocolate cake emerged. Coffee perked.
A nephew's new girlfriend had been welcomed by the clan; those working or sick or far away were remembered. The outside world seemed far removed from this lucky place.
Some of you who will read this have reeled through a bleak year; a few of you will have endured desperate times. My Christmas wish for all of you is for grace and luck, courage and love, one rising when the others are not enough. Merry Christmas. Vaya Con Dios.   Otis Redding/White Christmas