Geography becomes home when we no longer need a map to find our way.
I can close my eyes and see another landscape converted into working memory.
St. Francis Drive, which is also 84 and 295, curves around the west side of Santa Fe and St. Michael's drive cuts into it. Take St. Michael's west to the Old Pecos Trail and you reach Tony's cut off street. Over the mountain lies St. John's College, the school I wish I had worked hard enough in high school to attend.
The town of Pecos lies to the southeast, a wild, high landscape.
Truchas lies to the northeast on the High Road to Taos, the valley falling away, big mountains rising up, a village of one street and a compact row of homes, trailers and ranches, the settlement where I could live in if I were 30 and a doctor or writer or artist.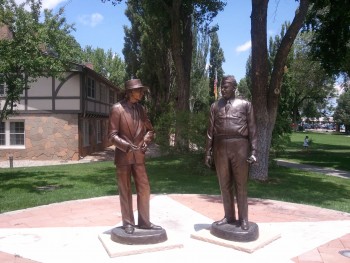 You have to drive 35 miles northwest to Los Alamos, and up a corkscrewing two lane road that must be absolute hell in winter to a quadra-sected mesa town with the best public library and bronze statues of Oppenheimer and General Groves.
Off the Plaza Square in central Santa Fe, walk toward St. Francis Cathedral and on the right side of the street stop at The French Pastry Shop for a café au lait, as good as any I sipped in Paris. The sanctuary of the Cathedral is cool and often quiet. Then walk north, retracing your steps, past the Plaza to Galisteo St. and turn left and walk into the best place for books in town, the Collected Works Bookstore. The Farmers Market runs every Tuesday and Thursday all year in a space next to the railroad tracks. The Farmer's Co-Op carries organic foods. For The Santa Fe Opera drive north on 84. Tune your radio to 89.9, KUNM, the most eclectic selection of music I have ever heard. I listen to it now whenever I sign on to the net.
All of this I can trace with my eyes over the fragmented map in my head that I can feel out and wheel around in a car and on foot. It is not yet a home. Too many gaps for that leap, but it is coming into focus. I am finding my way.
Just out of town, in all directions, there is the great breathless pause of so much stretched out, lit up territory, and the promises of the big mountains, close enough to climb in a day, and the everyday smashing vistas of so much sky and clouds.