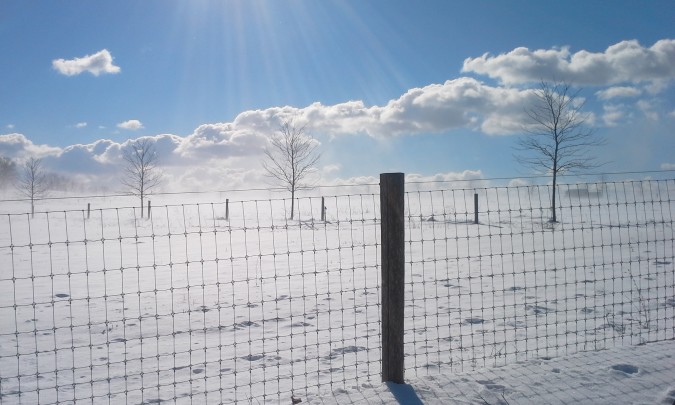 On February 20, birds of several species began their morning territorial songs here. Red Wing Blackbirds have been back at the Park for more than a month — Robins too in large flocks that materialize on lawns and vanish. With the exception of a dreadful two weeks of mud-skies in December, the Sun this winter has been out more than normal. The news continues to be crazy, but I feel less so from any sustained loss of light. I might live under a glass roof if I could.
In between the last few days' cloudbursts, we have been walking as always, on high ground when we can find it. For ten minutes one day song sparrows and juncos took off from our feeders and followed us into the field, keeping pace on both sides, perhaps expecting I would pull seed from my pockets and let it fly. The skies have been dramatic — grays sliding above off-whites or wonderful blues, or great clouds marvelous in their capacity to inspire happiness.
Walking back in the rain from a neighbor's after returning their dog, the oil man leaning against the wall of our home called out to me that he wished he could be out instead of trapped in his truck. For a minute we talked of how neither of us can bear to be in-doors for very long, rain or no rain. We agreed that our dogs always give us reasons to walk out the door, and both of us smiled and smiled as we spoke. I would bet that he too fifty times a day looks out his windows to see what he can catch.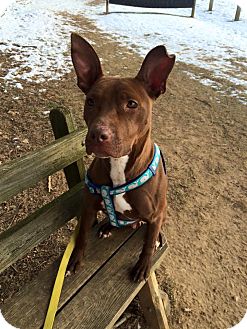 Last Thursday morning after the torrents, the crow family began arriving in the big trees around our house just when I could see my hand in front of my face. The wind was steady from the west and carried the smell of damp earth. Later, at the Rescue, the red pit Marissa wove herself back and forth between my legs as if she could summon a charm to call forth more good weather. The Spring Peepers began their singing the same day. Marissa may have the power. The signs are gathering.