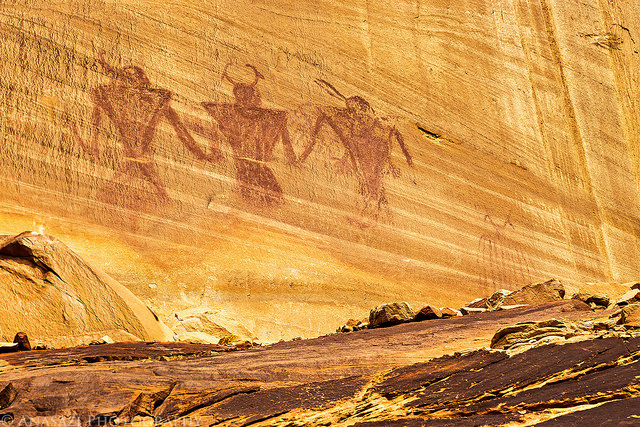 They did not know it was a manganese stain. They did know it chipped off and left a rich sandstone base beneath, the perfect surface. No one knows who in all these tribes made the figures — the Archaic Peoples, the Ute, the Anasazi, the Navajo; shaman, warrior, weapon-maker, young men or women on a lark. Some go back 2000 years. The three figures we saw high on the east wall at Calf Creek Canyon seemed dressed in robes and masks, one with the attached antlers of a pronghorn rising above his mask. They could be holding hands. Perhaps they are dancing. From the stream-side trail a good one hundred fifty yards away, they are clearly visible. Unlike some, these were meant to be seen. Perhaps they say only "we are here", or "this is ours", or "this is sacred" or, most hauntingly, "remember us". No one knows.
They are everywhere in the canyonlands of Utah and their range is actually universal — they are found in the Hawaiian Islands, in Azerbaijan, Namibia, Australia, Nicaragua, China — everywhere really. Their urge is a familiar one — to leave a mark, to record a portrait of human consciousness, to make symbols, to show what they saw. An old man, an aborigine in Australia, told one anthropologist that the meaning of some petroglyphs was "in the gesture, the act of the expression," as if the making itself was a kind of worship or a need so deeply ingrained in human beings as to compel action. The Navajo call these displays "Tse Hane," or "rock that tells a story." Maybe the explanation is this simple — whatever forms it takes, we must speak.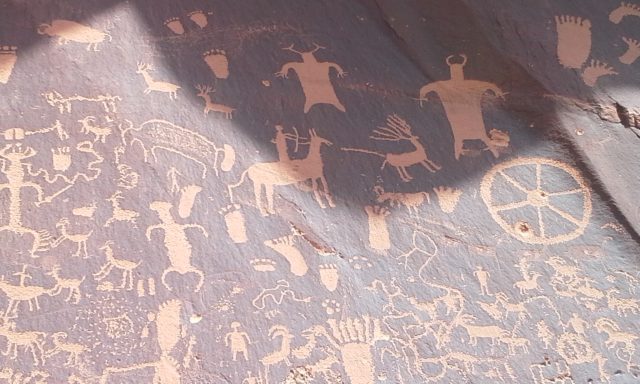 At Newspaper Rock hundreds of figures cover a space 20 feet long by 10 feet high — hunting scenes, bison, antelope, big horn sheep, elk, animal prints, feet, coyotes or dogs, ceremonial figures in robes (?), the ubiquitous wheel-circle, snakes, dancers, birds and signs resistant to any interpretation.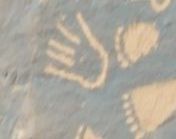 Entering the figures is hard. They are so distant from us, their translation so uncertain. Except for the hand, the exquisite, simple-lined,  perfectly perceived left hand. The image resonates. We know what to do with hands. We know how inextricably hooked they are into our imaginations and to our capacity for action. This was the only figure like it on the entire wall as if just one person out of the many who worked on this canvas over hundreds of years thought, "This is most important. How can I see it so it will last?" It is the ghost which beckons us in.