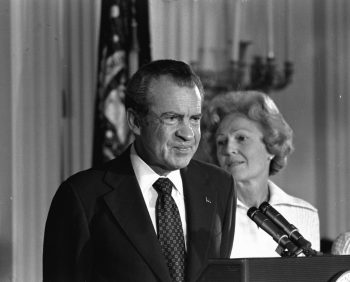 This image remains insistent: sometime early in 1969 during his first year in office, a state dinner was held at the White House. The President was either still at the dinner or had again gone into seclusion in the Lincoln Bedroom to read books about de Gaulle and Churchill, his two salient heroes (well before Watergate he had begun to isolate himself more and more). Later that night his daughter Julie looked down a darkened hallway  and saw her mother Pat," still dressed in her evening gown … swaying to the faint sound of music coming from the Grand Foyer where some of the guests were still enjoying the dancing. On tiptoes, she moved gracefully across the gleaming parquet floor. I did not intrude but rather turned and went on to the kitchen" (Thomas 202).* The poor woman.
In Being Nixon, one time after another after another, the President and his wife come across as prisoners** of the political life he had pursued relentlessly since leaving the Navy at the end of World War II. Both were shy, Nixon so strangely so that "he could not look his doctor in the eye [but] was perfectly confident in the presence of historical figures from de Gaulle to Mao" (Thomas 528).* Nixon could not bear confrontations, could not fire someone, could not reflect on his own actions until it was too late, forever harbored resentments about how he believed he had been treated by the old guard Republican aristocracy, by the Kennedys, and by the media as a whole. He could not even figure out how to approach his own dog so that it would take to him. Yet, through an uncompromising self-discipline, superb political intuition and analysis and a willingness to take risks, he resurrected himself from political death several times to become President. In Thomas's estimation he was "consumed by ambition [to take] on enormous burdens and risks [and thus] ascended to the heights, [but tragically] did not gain wisdom until it was too late to save his presidency" (Thomas 530).* He left such an expanse of wreckage behind, the most important being a cynicism about government that has since become ingrained in American life.
But I keep returning to his wife, to Pat, who loved this awkward, frail, terrible, half-mad man. In the unforgiving public eye she was mocked as "plastic Pat", and then also neglected by her husband  and compelled by his zeal to endure campaign after crisis after apocalypse. She bore his disgrace with him. In spite of her genuine anguish, many examples from the book show that she retained her kindness. Her warmth to her children and friends and many strangers never diminished — whatever one may make of it, neither did her loyalty to her husband.
Now I keep thinking of all the collateral damage done to wives and children# unsuited for the personal attacks and indiscriminate anger of American political life, for its reflexive hatreds and the continually increasing heat of its cruelties. I think of them smiling, standing behind the candidates, and I wonder about the texture of their inner lives and about how much poison they must drink each day just to keep those smiles glistening for the sardonic gaze of all those cameras and for the cannibal appetites of the public eye.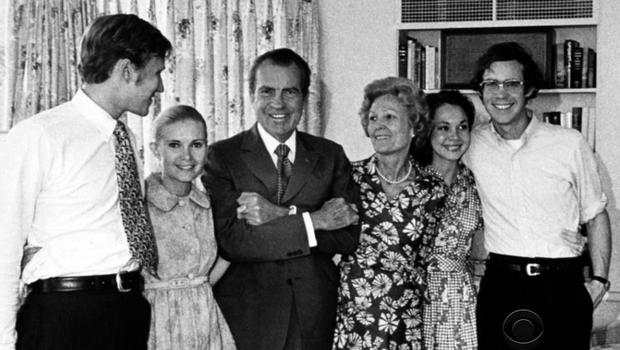 The photo that Nixon insisted be taken. They posed for it the night before he gave his resignation speech. They know that he has resigned in disgrace.
*Being Nixon: A Man Divided by Evan Thomas
**He chose the prison; she did not.
#American politicians remain overwhelmingly male.
In May of 1972 Brezhnev and Nixon signed "the first-ever arms control treaty. … Pat Nixon asked her husband if she could attend the historic ceremony in … St. George's Hall in the Kremlin. Since none of the other wives would be permitted, Nixon suggested that she slip in and stand behind one of the large columns, which she did" (Thomas 382).*
Richard Nixon (1): Post 182