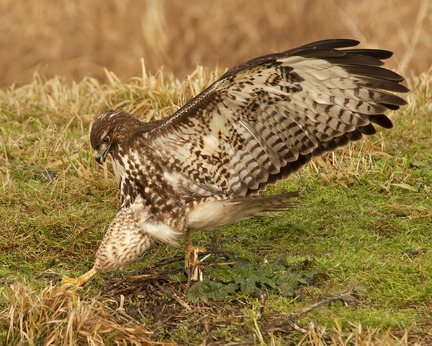 Any time we are not held in thrall by our silly-ass selves is well spent. Nothing focuses me on the pulsing, resounding present more than episodes in nature. However brief their span, their sudden action provides temporary relief from what can be a frivolous, yappy, burdensome self-consciousness, one that so persuasively enforces its domination. These encounters outside of 'I' blast the 'I' into another realm, and we then may see into the moment as if we were still innocent of years and trials.
A few days ago, in the space of time it took my car to cover a few feet, I saw a red tail hawk glide across Route 422 along the line of a perfect right angle to land upon its prey in the grassy median strip, one talon resting partially atop another, its wings reaching out to cloak its catch. A snap of a moment and then another snap and my car was past and it was gone, etched in memory.
On Sunday we counted twenty Cedar Waxwings clutched in one small Mountain Laurel feet from our window; they had gathered there to feed upon the red berries of our Viburnum. They looked as sleek as Porsche's; when they set and reset themselves in the drifting branches, the bright yellow tips of their tails went off like miniature flash bulbs on old cameras.