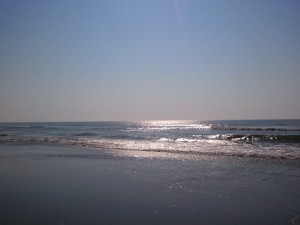 Standing chest deep in the Atlantic, barn door skates gliding through our group, we told stories. Ben, the Coast Guard veteran, spoke of seeing the North Atlantic in 20 foot waves. Wearing his neoprene survival suit and winter gear, he would brace himself on top of the bridge, binoculars up, feeling the descent into the trough of the wave and then look up at 40 feet of wave above him before the cutter rose and then crashed into it, tons of water falling on the battened down lower deck.
Once his ship conducted a grid search in the  Caribbean for a fishing boat out of Montauk on Long Island and came up empty, the  ship gone, swallowed up, nothing ever found.
Far from land, he has seen snow fall into a turbulent blue-grey ocean.
Today Isaac described the flock of crows he saw on his beach chair two years ago. They were pecking at his empty cup. Coming towards them, he yelled and waved his arms. They scattered, but one flew up with his car keys clenched in his talons but dropped them. If Isaac had not seen all this, he would have wondered who had stolen his keys.
There have been no mysteries or drama this day. Sixty feet from shore, a sandbar extends north and south for hundreds of yards. Walking out you descend and then rise up into ankle deep water. I felt like Goliath striding atop the sea, and then comes the second plunge and forward push through coolness. I worked out hard this morning, and my muscles let go in the buoyancy. Every year when we leave I miss this the most – throwing myself into the water, diving under the waves, feeling the push and pull of the tide and currents against this flesh, and then standing, facing out into the deep ocean, all of the United States at my back. The sea encourages a dreamy, reflective mood, especially when the body and mind are at rest in its weightlessness. Almost directly across from us Porto de Barcas in Portugal rises from the water.  I wonder what it is like to live there. I wonder who waits in that ocean, looking west, also awake and dreaming.
Earle and Alma have mustered their children and grandchildren and now  great grandchildren in this place each June for many years – a gathering of the  tribes. Patti's brother Earle and I helped her father into the surf late one afternoon. He is 87 and unsteady on his feet, but he is a determined man. He  clasped our hands and walked out between us. On the sandbar he stood and let the waves  come, enjoying the feel of the water on his body again. Alma, next to him, splashed water on his back to keep the flies off.
One night we all sat in their living room and watched the video of their granddaughter's wedding a month earlier in Jamaica. Earle and Alma had attended. Now they sat among their still growing family and smiled with everyone else when Leah appeared on the sand, their son's hand in hers, and in the dim light from the screen I watched their smiles grow larger still when she took her place next to her soon-to-be-husband.