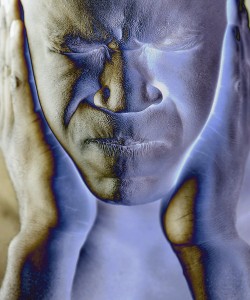 Even at 7:30 in the morning, I cannot evade the chatter. Two large flat screen TV's hover over the car dealership's waiting area. I just want to read my book and prepare myself for the bill. On the screen good looking men and women are gathered on uncomfortable chairs in front of enormous street-level windows where onlookers press and gape, sometimes clapping for reasons I cannot figure out. Then some anxious woman is speed talking about the best way to fry kelp, one of the attractive hosts pushing her to talk faster so they can get to a commercial. The first of the tsunami of this year's political adds pops up. The governor of New Jersey floats in double time above me, a voice-over proclaiming his status as savior of the state and the vanquisher of his enemies — teachers and union members. Next to me, one seat away, one seat, a bald man older than me has angrily punched in numbers on his cell phone and begun loudly arguing with his wife about "the damn kitchen colors". Afterwards, on the way to an oral surgeon, I pull in to fill up and a TV screen attached to the top of the pump shrieks at me. It­­_ is_ so_ loud. Buy this. Buy that. Terrell Owens is suing someone. The Phillies lost. Drink this soda. Eat this dried beef thing.
One ½ hour later Classic Rock, the ugliest music on the planet, is coming out of a flat ceiling speaker in the oral surgeon's waiting room. I close my book and look up and imagine following the electronic pulses through the wires, out of the building and into the underground conduits, darting at light speed along dank corridors bundled with cables and into a windowless building far away where I am routed into a server which turns me round and round until I arrive at the one computer controlling all Classic Rock seepages everywhere from Spitsbergen to Tierra del Fuego, and then and there I calmly cut every wire I can see and blessed silence whirls back through the cables and suddenly, in all places, in elevators and big box stores and in cars driving to all points of the compass and especially in windowless waiting rooms, silence descends and heads rise in the quiet … but that reverie is short lived, and now the speaker is puking some awful song in an advertisement promoting the latest tour by some sexagenarian band.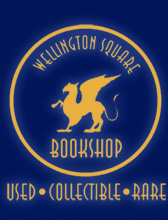 At the end of the day at home in quiet I opened a newspaper and discovered that independent book stores are disappearing in an extinction event and like all such events, tragic in nature – hundreds have vanished nationwide in the last decade. When the great vampire Amazon walks among them, they close, lights off, joining the darkness. Merde.
Cultural noise, the background melody of our expanding idiocracy, does have adversaries and one of them is independent book stores; my favorite is a few miles from my home, the Wellington Square Book Shop in Eagle, a shop staffed by readers where customers are recognized by name. It stocks new and good used books, and its selection is original, not generic. There, in a comfortable place, away from piped in music and the ugliness of intrusive electric babble, one can browse, that lovely meandering among books that can produce serendipitous discoveries. The books I buy and where I buy them have become synonymous pleasures – what will we do if good bookstores go under? We will revert to the cold, indifferent, impersonality of a mega-seller of products where books have now become a minor commodity. If the Wellington and other stores like it go under, this will be lost: the warmth of our meetings and chance conversations, and our joys in finding new authors and in stumbling upon unusual, intriguing titles.
So, today, take one step toward preserving a vigorous alternative to the encroaching wasteland, toward preserving an outpost of good spirits and deep wonders. Vow not to buy books from Amazon. Now pick up your phone and call the Wellington (610.458.1144) and order copies of books you love and ask whomever picks up, what he or she might recommend. A human voice will answer.
*I had no contact with the Wellington before I published this. They neither requested this favorable mention nor sought it. I have been promised nothing by its owner. I will seek nothing. I will accept nothing. I chose to write about the Wellington because it merits praise and prosperity, no other reason.