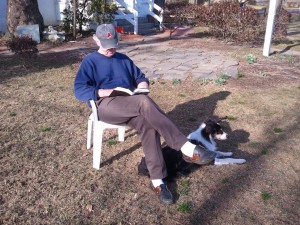 Today again the sun is breaking through morning clouds; for the last few days it felt good to walk out under it and to sit and read facing the south. My wife caught my picture on Saturday afternoon. On Sunday driving home we saw two pair of red-tail hawks roosting side-by-side in treetops off the highway. All along the high ridge to our west skunk cabbage dots the wetlands now. The Game Commission has stocked the creeks; we saw eighteen inch Palomino trout crowded under a bridge across the French Creek, looking like comic book visions, hovering nose into the current.
Yesterday my brother, youngest sister and I drove through Lebanon County returning to old landmarks, gazing into the past. In Monument Park in Lebanon, I watched a young Latino kid wearing a red bandanna and red I-Pod buds running laps around the Civil War Monument. Women in babushkas with young children began to fill the benches; one little girl danced up and down the sidewalk in front of her smiling mother. At Coleman's Park, the velvet blue of Scilla Spring Beauties showed themelves under Chestnut and Sycamore trees.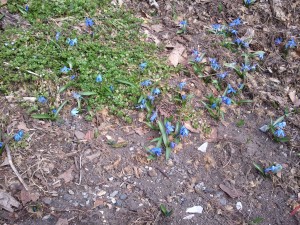 High up and all around us cardinals and robins sang, establishing their territories, readying themselves to build nests.
At one cemetery we visited looking for relatives, one grave site described the woman interred there as a "Cosmos Mariner".  That description seemed just right — hopeful and brave.
I've been so submerged in my father's deep past that to look without analyzing feels like a release, like my body lifting up into the sky, for a time weightless and without a care.