The dark haired Australian mother was smiling and shouting to her husband and her boys, "Come back. You've gone too bloody far." Arms crossed in front of her, she was shivering in the mist. At a wet 40 degrees the Lamar Valley was a glistening, clear, cold, wild place. She was watching her husband and two young sons standing on a hill on the other side of the Lamar River looking for grizzlies. All of us were looking for wild things.
The Lamar Valley is about 10 miles long and 4 to 5 miles wide. Take that length and width and imagine a space of that size, empty of almost all man-made structures and open to the very tips of its elevated edges, 1000 to 1500 feet above you. Fill it with clean, dry air such that there is none of that humid haze we associate with the east. Add a quality of light that feels visceral, physical, like a living creature; the Valley is so long that the light seems almost like a permeable organism. Now, imagine that you are standing on the Valley's one thin road or on one of many trails, and as you turn and turn, you can see for miles, your vision unimpeded  for miles, as if you are blessed with a kind of second-sight. And then the animals come out and fill your eyes.
We saw a buffalo and then a second, big hairy beasts. Then a northern harrier hunting low over the river and marshes. Then, an explosion of creatures. A well-fed coyote with one red and one green ear tag following a pronghorn. When they moved into the grass, they became suffused into the landscape. Fifteen or twenty more buffalo, and then another group of more than a dozen and then a third group — all of them calmly grazing, their big heads down, unconcerned by us. A bald eagle, straight-winged and soaring above us and mountain bluebirds down in the sage. Then, on the other side of the valley, high up, maybe 1000 feet above the floor of the Valley, three miles or more away, a bear moving fast to the top of the highest ridge. He was too far away to tell whether he was black or grizzly, but he had that distinctive bear gait, that squatty way of gallumphing along.
Into the car, and we drive less than a mile and then a herd of buffalo crossing the road, calves and cows and an occasional bull. They have little hooves, tiny ballet-feet that seem too dainty to carry all that weight and power. More people are injured by buffalo than any other big creature in the Park.
Now the valley is blinking off and on as it alternates between mist and clouds and mist and sunlight. In the vastness of its space, waiting for more animals to emerge as if from some speeded up magic show, I find myself grinning ear to ear. I think I might have laughed out loud. Anything could happen. A freaking white horse could fly out of the mist and unfurl its wings and I would be no more surprised. There cannot be another place like this.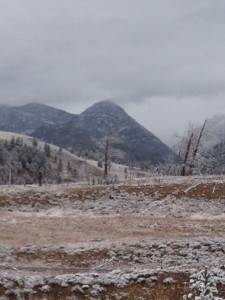 The next day we hiked alone through trees and bushes, through grizzly country, to a suspension bridge across Hell-Roaring Creek. Two people had been killed by grizzlies in Yellowstone this past summer. Walking ahead of my wife, I carried a bottle of pepper-spray in my right hand, my index-finger through the holder, my thumb on the release catch. Grizzlies can run at 40 miles per hour. I periodically repeated to myself "Release the catch, straighten your arm, point, do not run, do not run, do not run, fall and roll into a fetal position and cover the back of the neck." My head swiveled as if connected to a weapons' system. Sometimes I whistled — a piercing whistle — long, short, long. Here we come. Here we come. We walked through a portion of burn from the 1988 great fire. New Douglas Fir were coming back. They have the most wonderful, fresh, yellow-green tone.
Patti was taking photos behind me. "Release the catch, point…"  Any sound and movement may acquire a sinister meaning, but those signs were lost in the growing roar of the falls.
I love bridges; they make such elegant lines. This suspension bridge was narrow and banded below on either side by cables stretched out like a bow brought to full tension. The water roared and swept over rock far below us. We ate and started back. We saw nothing except birds, but we were later told by a wildlife biologist that wolves, mountain-lions and bears, including grizzlies, all use the bridge.
For two nights we stayed in the Old faithful Inn, an enormous, overpriced, dimly lit wooden pile 200 feet from Old Faithful Geyser. It was packed. We did not see many people out of the Old faithful area and no one on the trails we hiked, but this place buzzed. The road system around the geysers was composed of one way roads and loops. The summers are crowded and filled with cars.
I used to be a purist about industrial tourism, but no more. Patti and I had the luxury of traveling here in late fall when we had much of the park to ourselves, but this past summer brought three million visitors. Those three million and the millions of others who have come here and millions more who will visit in the future, create a powerful political base for the preservation of Yellowstone's 2.2 million acres and its bears and wolves and backcountry wilderness. By extension, they may also create support for other national parks and wilderness areas.
Just like me, I think these millions also want to see beauty. I  think most human beings hunger for it. It causes an effect within us that is fundamentally good, and that goodness does not easily dissipate whether we carry images of natural beauty home to Rockport, Maine or Padacuh, Kentucky or Pottstown, Pennsylvania or Shanghai.  At the Grand Canyon of the Yellowstone River, busloads of Chinese tourists hurried to Artists' Point from the parking lot.
We walked up a series of steps and then the canyon opened up. Suddenly this vast gash in the earth was there with the  falls dropping one hundred feet into a pink-lavender mist. All around me dozens and dozens of young Chinese men and women were posing for photos, smiling and laughing, oohing and ahhing, their arms draped around each other, the falls as their backdrop. Behind me I heard a young woman say to a young man taking her photo," If I fell down there, would you go get me?" He said, "Yes, yes, I would be your hero." Maybe beauty begins by making us sweeter.