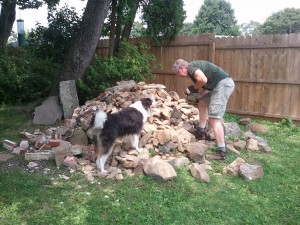 For at least an hour or two every afternoon I plug away on a new slice of garden and a stone wall for Patti. The space takes full sun until evening next to a field where milkweed by the score hosts thousands of butterflies. All day Field Sparrows and Goldfinches come to the water and seed under the maple tree close-by. Wolfie follows me back and forth from the rock pile to the garden, barking at each stone as I try to fit in into place.
The unseen guts of the wall are lined with cast-off brick from an old living room mantle I had demolished. Big stones form the outer walls, the curve of its edges just beginning to arc. Layer follows layer, flat rocks wedged just so upon the two-deep stack of brick. I am going to lay three courses, flat stone on top, and in its northeast corner bend it past a fire pit where I already have plans for still winter nights.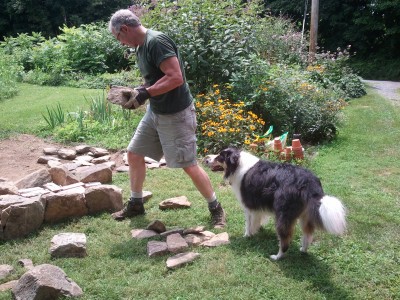 I feel nothing but wonderful verbs in all this: lift, haul, lodge, measure, unlock, sidle, jam, slide, tumble, lock, look, balance, stand, crouch, kneel, bend and swing and strike. My mind drifts free of the actions. It feels peaceful merely to drift. My hands obey my eyes and some other part of me that is performing from behind a screen — a quiet, veiled master delicately breathing instructions.
I plan to finish it by the end of August, then lay in the topsoil, and together we will gather the new flowers and grasses, plant them and wait. Toads will burrow beneath the fresh dirt. White-footed mice will thread the slim corridors of the wall. Spiders will find the cracks and spin their white silk cocoons. This winter's rain and wind and ice will begin to polish the surfaces. In its myriad ways, it will come to life.