As with so many of my age, Ali's death prompted memories, but for me too, an ambivalence I did not feel as a young man.
Ali (then Clay) had entranced me. He delighted me. His other-worldly athleticism and his supreme confidence seemed like a spellbound thing to me, an awkward 11 year old, a shy kid, just beginning to handle a basketball. I did not see his blackness, just as I would not see Dick Allen's or Hal Greer's when I came to admire them. I saw the way they moved, and I wanted to move through the world like them. Later, when he defied the draft and stayed to face jail, when he tied himself explicitly to the Vietnam War and to a surging black awareness of its identity and anger, then I saw his blackness, but then I think, his will astonished me. He was risking everything — liberty, popularity, his work, his livelihood. Who could do that? No one I knew. I fastened onto him yearnings I could not have articulated at the time, desires for a firm identity, for attention and maybe this especially, the ability to fight and thus to not be afraid, the dexterity to push back bullies and threats with a firm eye and my fists.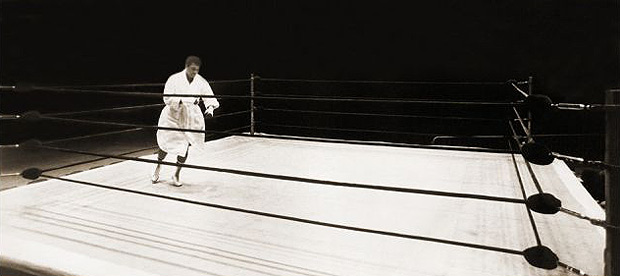 My mother and I listened to a live radio broadcast of his first fight against Liston in late February, 1964. I had been sick and missed school that day. My mother sat on my brother's bed and kept me company. We listened together. My father was working the middle shift off chasing bad guys. No one else was about. The blinds were shut; a bedside lamp threw off a warm, shadowy light.
I remember both of us smiling more and more as the fight went Round to Round. Liston was the Champion and a very tough guy, but in our imaginations that night, the announcer brought us Clay's speed, his agility — hands down, his back flexing and taking his head away from punches, Liston plodding after him, Clay snapping left jabs and combinations bapbapbapbap and then slipping away, and then the terrible Fifth Round when Clay, blinded by some substance picked up off Liston's sweat, could not see and he ran, circling, circling and surviving and then in the Sixth (so early — the crowd noise deafening, the announcer, shouting, caught up in the excitement), Clay, his intensity a furnace, his hands, so fast like branches whipping in a storm, hit Liston again and again. Gathered in that warm room against the cold, just the two of us, we looked at each other and knew, somehow, on an instinctive level, that we were witnessing something remarkable, the world changing in that moment, someone grand appearing, a mysterious wheel turning in our presence, in that simple room with the radio.
I could not let him go after that. I saw most of his fights, but as the money got bigger, more and more after the fact, but still, I watched the Frazier fights, including that most brutal piece of work in Manila (the fight begins at 13:12), the Foreman Bout, the Spinks' fights, the end too, the beatings he received from Holmes and Berbick.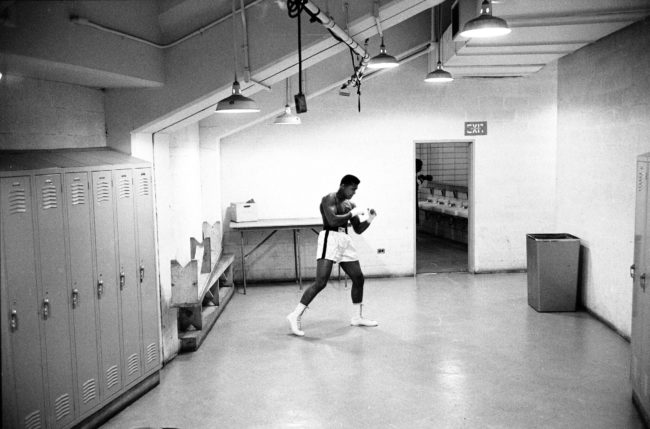 Now, I think of his ambition and his work ethic, his gift of courage … and his cruelty to Joe Frazier, a man he tried to humiliate by baiting him, by calling him a "gorilla", and I think of poor men sweating their youth away in dark city gyms, every part of them a defined hunger, and of facing unimaginable pain and damage at the hands of another man, and of me watching, of so many watching, and I do not think I could look on this now. I could not shrug off the cruelty to Frazier now, a man who I suspect I am much closer to in temperament. In our broken, gilded age, the spectacle for his fights would be infinitely more grotesque. But still, my God, the memories coming back so fresh, of his voice and his cool intensity — weaponless, under the gaze of tens of millions, looking across the ring at men who wanted to kill him, and so that part of me remains, the one entertained by ferocity, by the bared-teeth, adrenaline-laced urge to break out of this civilized bubble and smash things, and Ali was the super-nova of controlled ferocity. Nothing in the sky could match the temptation of his light.    Ali in Deer Lake