Forty-eight hours sometimes yokes disparate experiences together that remind you there are people out in this ongoing mess of a Republic who deserve recognition and thanks.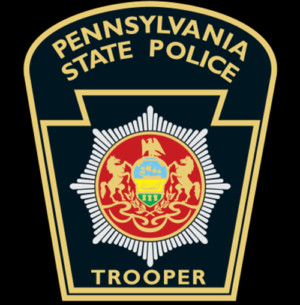 On Thursday we listened to a man tell us of being suspended by one Kevlar rope 150 feet below a Huey as it traversed the Chesapeake Bay~. On Friday a play that asks its actors for a supreme emotional and physical effort was enacted at a local high school. I remember another production decades ago of the same play whose remarkable physical power spoke of another kind of risk.
I am the son of a State Trooper and the veteran of many years of teaching. Of all the professions, I admire these two the most.
On Thursday a retired Pennsylvania State Trooper and I interviewed* a former captain who told us of his career and of his stint as one of the original members of Pennsylvania's SERT Team (Special Emergency Response Team)#. James** spent 25 years on the force, a good number of those as a SERT member. In close to 200 incidents involving the most dangerous circumstances, they only had to use their weapons to end those events a few times. James was most proud of that record.
One story stands out as indicative of his sensibility and that of his fellow officers.
The SERT Team was called to a domestic situation that had grown into a hostage situation and then a murder. A man had shot his wife. He had barricaded himself in his house. He wanted to see his infant daughter (she had been with other family members). Then, he said, he would surrender. Eventually, he was told she had arrived at the scene. He came out, gun in hand. James and a team member rushed him from the side to tackle him. To tackle him. That's right. He shot himself a few feet before they reached him. They had wanted to preserve his life, this man who had murdered his wife, because a peaceful resolution with minimal loss of life was their goal. Always.
In over 8 hours of interviews with 3 retired Troopers, I have been most impressed with their honesty, humility and professionalism. No braggadocio, no narcissism, no glorying in power, just integrity and humor and an ambition to do their jobs the right way.
It is that desire to get it right and in the process make something right and lasting that links these professions for me, that allows me to write of drama teachers and police officers in the same sentence.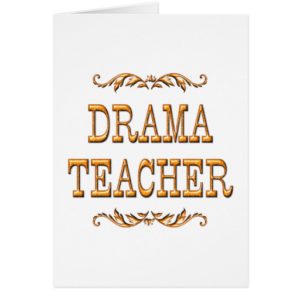 The Miracle Worker by William Gibson describes the meeting of Helen Keller and Annie Sullivan, her teacher, and Sullivan's struggle to teach her language and therefore break open the world to her. At the end of Act I, a table-clearing, punches thrown, slaps landed, wrestling match takes place between Helen and Annie. Annie will exert her will over Helen, and Helen will resist with all her physical strength. This scene is a war and requires of its actresses a balance between the controlled and the ferocious. I remember seeing it many years ago. Two of my students were in the leads. My good friend and colleague was the director. My memory of their combat came back when, on Friday, another production of the play took place on the same stage under the direction of another good and talented friend.
Watching this scene, and remembering it now, one lives in a kind of awestruck state at the ability of adolescents to focus so completely on inhabiting roles — as if there were no space between their lives as high school students and daughters and the characters they must portray as actresses. I was  caught up in their movements, in their rages, in their exhaustion. And on Friday I thought also of how those actresses will remember those hours on stage for the rest of their lives. For those nights, they entered a paradoxical dimension of such compact and yet transcendent concentration and joy. And I thought of their directors, productions separated by decades, who brought them to that space and created parameters that gave them such unparalleled freedom as to become someone else and have others love them for doing so. Their directors, these talented women, these friends, forged those hours of grace as surely as if they had wielded hammer and hot iron on an anvil.
Once this cascade begins it will not stop.
Again, many years ago, on the sidelines for 12 games, I watched a famous tough guy, a coach, do his best work with a team that did not win one game##. The team was small and slow and had only one talented player. They were pummeled again and again, and yet this tough guy who could make 270 pound lineman afraid, never once lost his composure, never took the losses out on his players, but for quarter after quarter, in cold rain and mud, before hooting, hostile spectators, taught and encouraged and took all those boys onto his back and carried them past their own frustrations and sorrows. No one quit that team. At the end of the last game of the season, the score a lopsided wreck, he spoke to them in bitter cold. They knelt in the mud around him. He told them how proud he was of them and that he would never forget their spirit. Some of the boys wept unashamedly.
These memories all swirl together, the coach and the boys in the rain, the actresses in their battle-royal, their directors who taught them how to let go and also sharpen their skills, the police officers telling us stories of uncommon, normal, expected bravery and of their uncertainties and mistakes. For me, these men and women become entries in a life-long list of actual beatitudes made flesh, enacted in the time I have lived.
My thanks giving is for them and for having had the good fortune to have known them and to have seen what I have seen.
~part of their rappelling training. The 18 member team was trained by the Maryland SP.
*as part of an effort organized by the retired Trooper to create an oral history of the PSP. Ultimately, the plan is for the videos to be available in a special booth in the PSP Museum in Hershey.
#SERT is the PSP equivalent of a SWAT Team
**I have changed or withheld names out of a desire to protect the privacy of those being discussed.
##their record shows one win but it was a forfeit.