It all comes back.
Crossed arms, thumbs hooked in the straps, a slight forward lean, sixty pounds resting on the hips. The transient joy of planting each foot and swinging the next into place in a feeling of well balanced well being.
After the first day of mole-skinning the feet and repacking for convenience and comfort, of the muscles adjusting to the harness, you begin to settle, fitfully and then seamlessly into a spell composed of currents of tremulous awareness and thoughts that rise to the surface, gather light, ebb, fall, drift, and  sometimes become anchored before dropping to be replaced by others.
The Beartooth Wilderness, Montana, August 1977 (zinc oxide covering a bad sunburn from snow reflection)
These are words that written on a page try to describe the rhythm: feet cold sweat back sun heat water land sky animals light rock cloud weather wind.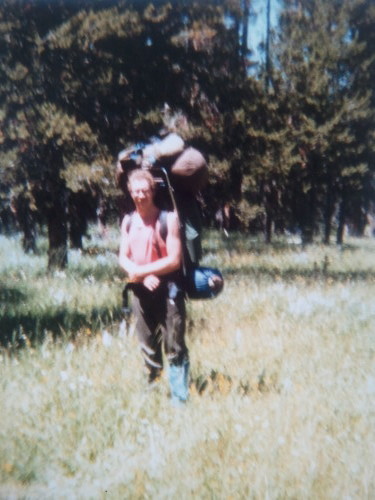 They could be arranged in any pattern; as words they are separate forms, but walking creates a continuity and opens up the consciousness into a 'taking in', a flowing forward in an immersive sea. Body, mind, land and weather become integrated into the same motion. You walk into fatigue as into a pleasure, and into the land which is no longer a series of pictures but a place you inhabit at 3 or 4 mph.
Near Yellowstone Lake in Wyoming, August 1981
You walk into weather — wind, rain cutting sideways on great visible gusts, snow in August above the timberline. The stars arise in great cloaks and fields of light, more brilliant than anything you have ever seen down below.
You walk into insights. If you can catch them in your memory with a word or two, they will return that evening when your boots are off and you rest, very happy in stillness. Some arrive with such force, carrying images like visions, like explosions of clairvoyance. They stop you on your rocky path as suddenly as any jolt in the physical world.
All this came back while watching Wild and Reese Witherspoon as Cheryl Strayed walk herself into a better life. She discovered a transcendence earned through a good exhaustion as created by her body bearing a heavy load along one long path for miles stacked upon miles. She had wrecked herself and a marriage. Everything behind her was burning. She cut herself loose. She chose 1100 miles of the Pacific Coast Trail as a kind of penance and as a release from grief, guilt, and despair —  as a way to achieve clemency for what she had done and lost.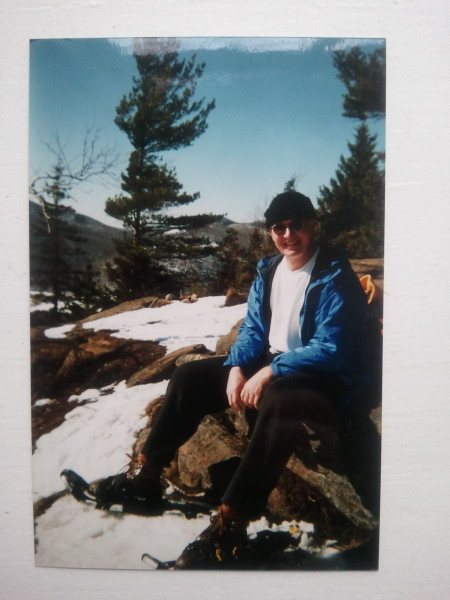 On the trail, you choose to temporarily abandon everything that seems so important and in doing this maybe reclaim something urgent and alive you had thought irretrievably lost, and this too, maybe find places where you can lodge a devotion that will endure for a lifetime.
Near Estes Park, Colorado, April 1998                    
Tunk Mountain, Maine, October 2014
Climbing Cathedral Rock, Sedona, Arizona January 2015